Renaissance Legacy
ASHA #116006 Chestnut Stallion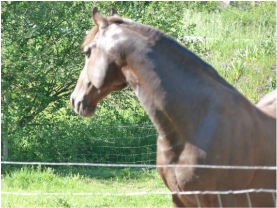 Sired by the buckskin performance champion stallion Holly Akala Banner x the elegant performance mare Capitola's Tiffany Diamond by Multi Fire, Legacy is a horse that was bred to perform and to pass on athleticism. A proven sire of foals with calm and dependable dispositions, correct conformation and a willingness to work with you, Legacy is an excellent choice in a breeding stallion today.
Legacy was nominated to the
American Saddlebred Horse Association's
First Time Breeders Program in 2014, demonstrating our commitment to the breeding of purebred Saddlebred mares to Saddlebred stallions.
As we continue to promote the need to breed Saddlebred mares to Saddlebred stallions only we have reduced Legacy's stud fee by half to ASHA registered mares bred by Live Cover in 2015, again in 2016 and 2017, and have joined with the
United Breeders Committee
to promote our breed.
We are now booking for 2018:
Legacy stands to purebred mares at $1250 Live Cover with a LFG, however:
in order to help preserve the American Saddlebred horse breed we are offering half price breedings to ASHA registered Saddlebred mares at $625
Other breeds may be considered on an individual basis with resulting foals being eligible for Half Saddlebred registration. Fee $500 with LFG.
Our breeding season this year runs from May 1st through June 30th.
Limited Book.
If you have an exceptional ASHA registered mare which you would like bred by Live Cover feel free to enquire about service.

If you have a mare carrying our bloodlines we would like to talk to you about an Every Other Foal breeding lease. sbreds@telus.net
Legacy daughters Bequest on left and Renaissance Promise on the right.