Our commitment to the American Saddlebred breed:

We firmly believe that the American Saddlebred is perfect as it is today and that we need to breed our mares only to Saddlebred stallions. After all, the American Saddlebred is the ideal first horse, and is suited to any discipline and any rider. We feel strongly that if you breed your mare to another type of stallion you are dishonoring her; if you own her, if you ride her, if you love her - repay her with a purebred foal.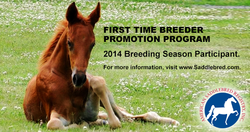 In 2014 we took part in The First Time Breeder Promotion Program , which offered mare owners or lessees, who were first time breeders during the 2014 breeding season, a chance to have a free breeding to an ASHA registered stallion. 52 horses, including Renaissance Legacy, were enrolled. We hope so see this program in place again soon.
---
---

In 2015 we joined the
United Breeders Committee
to encourage the breeding of purebred mares to purebred stallions. In order to assist mare owners in making the decision to give back to the breed we are offering half price Stud Fees to Legacy for Live Cover, LFG breedings of ASHA registered mares again this year.
---
PO Box 3123, Kamloops B.C V2C 6B7
250-320-8585
email: sbreds@telus.net